DOHA - Doha Online Historical Atlas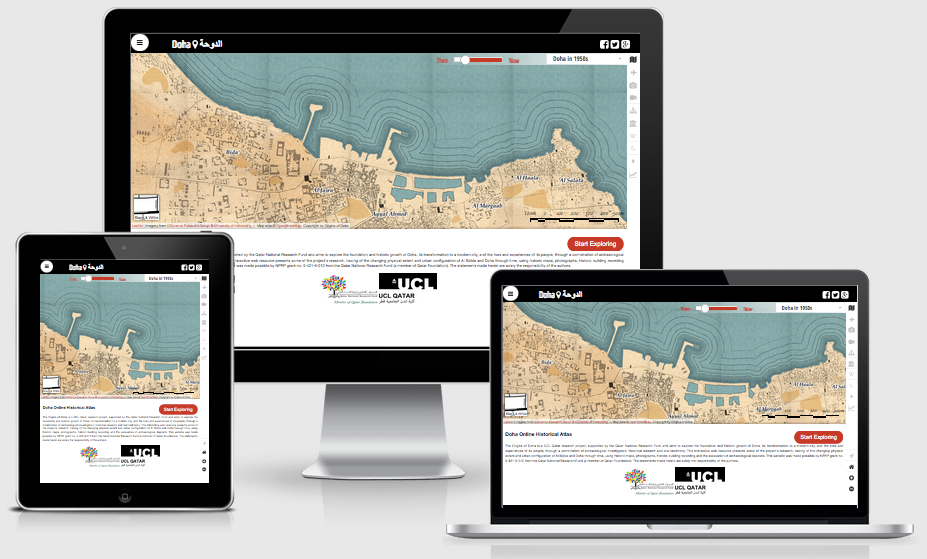 Michal Michalski Origins of Doha Project
Prof. Robert Carter University College London – Qatar
Daniel Eddisford Durham University
Dr. Richard Fletcher University College London – Qatar
Dr. Colleen Morgan University of York
Since 2012, the Origins of Doha Project (University College London – Qatar) has investigated the foundations and historic growth of Doha, Qatar through archaeology, history, and oral testimony. As part of the digital public outreach for the project, Doha Online Historical Atlas (DOHA), a Historical Geographical Information Science web application has been developed to disseminate the live, multimedia results of Doha's transformation from a pearling town into a modern city.
DOHA was built using Open Source Software and utilises cutting edge web and geospatial technologies. The design allows for the efficient, flexible representation of maps, aerial images, videos, historic records, building recording, and archaeological investigation. This information explored on the web, or on mobile devices that bring the history and archaeology of local places to the user's location.
DOHA provides also users with opportunity to actively participate in development of the content which is crowdsourced using geotagged Wikipedia articles as well as by filling a report on historic event and adding a geolocated media. The popularity of the application will be evaluated using feedback provided through email, social media sharing buttons as well as analytic software for web maps that give insight into user interaction with map.
The goal of the poster is to present the design, architecture and implementation of the application which has been unique in its nature and scope.